WWW.SYKORAAUCTIONS.COM PRESENTS!
HARLEY JEAN CRAWFORD BENEFIT AUCTION
11294 N. LEATON RD. CLARE MI 48617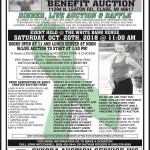 DINNER, LIVE AUCTION & RAFFLE
IN ORDER TO HELP HARLEY AND HER FAMILY WITH ONGOING MEDICAL EXSPENSES FOR HER TREATMENTS AND TRAVEL THE FOLLOWING ITEMS WILL BE SOLD AT LIVE PUBLIC AUCTION LOCATED 3 MILES EAST OF CLARE MI ON OLD US-10 (SAGINAW RD) THEN NORTH 1/10TH MILE TO 11294 N. LEATON RD CLARE MI 48617 (NORTHERN ISABELLA COUNTY)
EVENT HELD @ THE WHITE BARN VENUE
SAT. OCT. 20TH 2018
DOORS OPEN AT 11 AND LUNCH SERVED AT NOON W/ LIVE AUCTION TO START AT 1:30PM
*A GREAT LUNCH CONSISTING OF ROASTED PORK & CHICKEN (BY THE FAMOUS AL RENNER) WITH SIDES OF POTATO, VEGETABLES, SALADS, DINNER ROLLS
COST IS $10 ADULT, 12 & UNDER $5 KIDS 5YRS. & UNDER FREE
*RAFFLE FOR POLARIS RANGER 500 SIDE X SIDE WILL TAKE PLACE AT APPROX. 4PM THE AFTERNOON OF THE EVENT. TICKETS MUST BE PURCHASED PRIOR TO THE BENEFIT AND WILL BE SOLD BY COMMITTEE MEMBERS OR CONTACT CARRIE MCCONNELL @ (989) 429-3946
BRIEF DESCRIPTION OF EARLY DONATED AUCTION ITEMS
NEW IN BOX & USED RIFLES AND SHOTGUNS BROWNING-SAKO-MARLIN-REMINGTON & MORE
MANY NEW POWER AND HAND TOOLS
NEW CORDLESS TOOLS
CHARTERED FISHING TRIPS
FISHING ITEMS
HUNTING ITEMS-KNIVES-TRAIL CAMERAS
OUTDOOR SPORTING GOODS
NEW LARGE BBQ. GRILL
CAMPING GEAR
3PT FOOD PLOT DISC
FULLY PROCESSED FREEZER BEEF & PORK
HARLEY JEAN CRAWFORD BENEFIT AUCTION LIST
GUNS
N.I.B SAKO MODEL 85 30-06 BOLT ACTION RIFLE, STAINLESS BRL. SYNTHETIC STOCK SN#789801
N.I.B BROWNING GOLD HUNTER 12GA. SEMI-AUTO, DURA-TOUCH CAMO FINISH, 26"BRL. 3 ½" MAG, INVECTOR PLUS CHOKE, SN# 113MX11297
MARLIN MODEL336 30-30 LEVER ACTION RIFLE, REDFIELD 1 ¾ 5 X SCOPE SN#6946109
NEW MARLIN MODEL 995SS STAINLESS SEMI-AUTO 22L.R W/ TASCO SCOPE, SN#04220112
BROWNING BAR 30-06 SEMI-AUTO RIFLE W/ REDFIELD 2X7X SCOPE SN#51526
KMART MODEL 151 12GA. SINGLE SHOT SN# 806451
NEW ENGLAND H&R PARDNER 12GA. PUMP SHOTGUN 3" SHELLS SN#NY539282
GLENFIELD MODEL 25 .22 BOLT ACTION RIFLE W/ 4X32 SCOPE SN#24671908
NEW RUGER M-77 MARK II 30-06 SPRG. BOLT ACTION RIFLE SN# 784-60180
MOSSBERG MODEL 151K 22L.R SEMI-AUTO W/ MATCHING MOSSBERG 4 POWER SCOPE
REMINGTON MODEL 870 WINGMASTER 12GA. PUMP, 2 ¾" SHELLS, VENT RIB, SN#S420961V
REMINGTON MODEL 11-87 SPECIAL PURPOSE 12GA. SEMI-AUTO W/ VENT RIB SN#SMO17258
WINCHESTER MODEL X-150 50 CAL. INLINE MUZZLELOADER W/ NIKON 3-9X40 SCOPE, REALTREE CAMO COMPOSITE STOCK & SCOPE
N.I.B RUGER AMERICAN-RF-FARMER EDITION BOLT ACTION 22LR, SN# AFR03093 FROM GREAVES TRUCKING-GLADWIN MI
NEW AMMUNITION
(4) 20 ROUND BOXES OF WINCHESTER .243 80 GR. POINTED SOFT POINT BULLETS
(4) 20 ROUND BOXES OF ULTRAMAX .223 REM. 52GR. HOLLOW POINT BULLETS
(7) 25 ROUND BOXES OF SUPER-X 12GA. 2 ¾" 1 ¼ OZ. BB SHOTSHELLS W/ AMMO CAN
(60) 50 ROUND BOXES OF OLIN WINCHESTER 115GR. 9MM AMMO. TOTALS 3000 RNDS.
(20) 50 ROUND BOXES OF OLIN WINCHESTER 130GR. 38 SPECIAL AMMO. TOTALS 1000 RNDS
(3) BRICKS OF REMINGTON 22L.R BULLETS TOTALS 1500 RNDS.
(5) 100 ROUND SLEEVES OF SUPER-X 22L.R 40GR. ROUND NOSE COPPER PLATED BULLETS
(4) 20 ROUND BOXES OF FEDERAL PREMIUM 30-06 SPRG. 180GR. SIERRA GAMEKING BTSP BULLETS
FISHING CHARTER & FISHING ITEMS
ANOTHER LIMIT GUIDE SERVICE: 2 PERSON STEELHEAD CHARTER ON THE FABULOUS BIG MANISTEE RIVER OCTOBER 2018 THRU APRIL 10TH 2019 W/ CAPTAIN BOB ISON (989) 240-4596
NEW REDINGTON WFR 905/5WT 9' FLY ROD W/ TRAVEL TUBE
KNIVES
COLLECTION OF 22 NEW IN BOX BEAR & SONS CUTLERY FOLDING POCKET KNIVES
(2)GS 193.5 3" GENUINE INDIA STAG
(1) AB26 3" ABALONE EXECUTIVE
(3) AB 54 ½ 3" ABALONE LITTLE
(2) AB 193 ½ 3" ABALONE LITTLE
(1) 825 3" EXECUTIVE LOCKBACK
(1) GS 54 ½ 3" GENUINE INDIA STAG
(3) 840 2 ½" MINI EXECUTIVES
(1) K8193 ½ 3" GENUINE MOTHER OF PEARL
(1) GS 345 ½ 3 3/8" GENUINE WHITTLER
(1) C354 4 1/8" YELLOW DELRIN
(4) C3452 3 ½" MID. YELLOW DELRIN
(2) AB40 2 ½" ABALONE MINI
ED FANCON CUSTOM HANDCRAFTED WHITETAIL ANTLER HUNTING KNIFE, 4" FIXED BLADE MADE FROM 52100 HIGH CARBON W/ SHEATH, LIFETIME WARRANTY & ALWAYS FREE SHARPENING
N.I.B (4) OLD TIMER SHARPFINGER 3.3" BLADE FULL TANG SHEATH KNIVES
NEW BUCK DUCKS UNLIMITED 694T SHEATH KNIFE
N.I.B BUCK SPECIAL B119-00-0 SHEATH HUNTING KNIFE
SPORTING GOODS& OUTDOOR ITEMS
NEW CHARBROIL CHARCOAL/GAS COMBO 1010 PATIO GRILL
PEAVEY MODEL 112DC SPEAKER
NEW ELEVATION NERVE RIGHT HAND FIELD CARRYARROW QUIVER
NEW OMP PRODUCTS ADJUSTABLE 12 ARROW TUBE HOLDER
N.I.B WILDGAME INNOVATIONS MODEL W2250D 225LB. CAPACITY WILDGAME DIGITAL POLY BARREL EASY SETUP FEEDER
N.I.B BULLDOG BD1121 PERSONAL VAULT FOR PISTOL OR VALUABLES
NEW 1 DOZEN B&G MENS BROWN JERSEY GLOVES W/ PVC DOTS FROM R WHOLESALE
NEW DOZEN SHOWA 4544XL-10 SAFETY GREEN RUBBER DIPPED GLOVES FROM R WHOLESALE
NEW DOZEN BRUSHED PIGSKIN HEAT TRAC MICRO-FIBRE INSULATION WINTER GLOVES FROM R WHOLESALE
2 NEW DOZEN OF LEFT HAND ONLY LEATHER WELDING GLOVES FROM R WHOLESALE
NEW DOZEN PREMIUM SMALL GRAIN LEATHER GOATSKIN GLOVES, FROM R WHOLESALE
NEW DOZEN 14" CUFF PVC GLOVES FROM R WHOLESALE
NEW DOZEN JOMAC LEATHER PALM LONG CUFF WELDING GLOVES FROM R WHOLESALE
NEW DOZEN SIZE XL 100% NITRILE WORK GLOVES FROM R WHOLESALE
N.I.B TASCO 10X25 LIGHTWEIGHT VERSATILE BINOCULARS
NEW ECHO CS-590 TIMBER WOLF 18" CHAINSAW W/ 5YR. WARRANTY FROM REDS REPAIR FARWELL MI
N.I.B MILWAUKEE M18 FUEL RED LITHIUM XC50 SERIES SURGE HYDRAULIC ¼" DRILL DRIVER W/ CHARGER, 2 BATTERIES IN A HARD CARRY CASE FROM CLARE & SANFORD DO IT BEST HARDWARE
NEW BROILKING BARON MODEL S420 PRO SE LP GAS GRILL, 10 YR. WARRANTY ON BURNERS & GRATES 100% BUILT IN NORTH AMERICA, BEST WARRANTY IN THE GRILL BUSINESS, FROM CLARE & SANFORD DO IT BEST HARDWARE
N.I.B NATIONAL FFA ORGANIZATION 1/16 SCALE DIE CAST NARROW FRONT JOHN DEERE 2520 TRACTOR FROM BADER JD IN ROSEBUSH MI
NEW MITCHELL AVOCET 6'6" 4-12LB FISHING ROD & REEL COMBO W/ PLANO READY 2 FISH TACKLE BOX & TACKLE
30' TALL W/ 5' BURY BASE FLAGPOLE MFG. FROM 2-3/8" DIAMETER SCHEDULE 40 STEEL PIPE, SANDBLASTED & FINISHED WITH SILVER POWDERCOAT FROM SHARPCO WELDING & FABRICATION IN CLARE MI
NEW WEBER SMOKEY MOUNTAIN CHARCOAL COOKER SMOKER, 18.5" SERIES W/ THERMOMETER, COMES WITH WEBER SMOKER COVER FROM ACE HARDWARE OF CLARE MI
NEW IN BOX ALPHA HANG ON II PORTABLE TREESTAND, W/ FULL ARREST SYSTEM INCLUDED, MADE IN THE USA FROM RAM BUILDERS & MIKE PARSON FAMILY, CLARE
NEW YETI TUNDRA 110 CAMP COOLER, 37"X18"X20" THIS COOLER IS CERTIFIED BEAR RESISTANT, THE NAME SAYS IT ALL. FROM RAM BULIDERS & THE MIKE PARSON FAMILY. CLARE MI
N.I.B SMOKEY MOUNTAIN HUNTER BOW PACKAGE: INCLUDES; 62" 45# RECURVE BOW, BOW STRINGER, 2 STRAP VENTED ARM GUARD, PRE INSTALLED FINGER SAVERS & ARROW REST. FARWELL TRADING POST
(12) SONIC BOOM 2LB. RIFLE EXPLODING TARGETS, JERENT ENTERPRISES LLC. OMAHA NEBRASKA & BRENT MICHAELS/SONIC BOOM
(24) SONIC BOOM 1LB. RIFLE EXPLODING TARGETS, JERENT ENTERPRISES LLC. OMAHA NEBRASKA & BRENT MICHAELS/SONIC BOOM
CABELAS GUIDE SERIES ALUM. FRAMED OUTFITTER BACKPACK, DALE & KATHY ROOT
24 CUSTOM HANDTIED BLUEGILL/PERCH FLIES IN CARRY CASE, GUARANTEED PERCH ON HIGGINS LAKE FROM BOB & GERALDINE EMBREY
N.I.B O2 BEAM BY NEEBO 420 LUMEN 500 METER LED FLASHLIGHT, 4X ADJ. ZOOM, MFG. FROM AIRCRAFT GRADE ANODIZED ALUM. WATER RESISTANT CONSTRUCTION W/ ALUM. STORAGE CASE, PALMERS HARDWARE & AUTO PARTS FARWELL MI
N.I.B SEVEN-2 BY NEEBO 770 LUMEN LED FLASHLIGHT, 6X ADJUSTABLE ZOOM, 300 METERS, PALMERS HARDWARE & AUTO PARTS FARWELL MI
DUCKS UNLIMITED PRINTS & DÉCOR ITEMS
D.U "AFTER THE STORM" LARGE MATTED FRAMED MALLARD PRINT BY PHILLIP GROWE #3207/3500
D.U "MIXED BAG" LARGE MATTED FRAMED WALL PRINT BY RICHARD PLASSCHAERY #321/5000
LARGE OAK FRAMED " BUDWEISER KING OF BEERS" WALL MIRROR W/ SMALL BUD ICE FRAMED WALL MIRROR
(2) FRAMED COLLECTOR SIGNS W/ BLACK LAB PUPPYS' W/ DECOYS & REMINGTON-UMC GETTING READY FOR THE DUCK HUNT SIGN
JOHN WAYNE FRAME PRINT W/ FAMOUS QUOTE OF LIFE
ELK ANTLER SHEDS FOR COTTAGE OR CABIN DECOR
NEW 5"X7" HORIZONTAL/ VERTICAL PICTURE FRAME W/ MATCHING 20"X20" OVERSTUFFED PILLOW BY CREATIVE CO-OP FROM THE HERRICK HOUSE & MULLBERRY CAFÉ IN CLARE MI
NEW IN BOX 2018 ANHEUSER BUSCH OUTDOOR 18"X26" BUCK MIRROR #5009210 EDITION
NWTF " AUTUMN RENDEZVOUS" LARGE BUCK SCENE PRINT, #323/570 BY ARTIST CHARLES RENAULT
STAINED & FINISHED PINE BIRDHOUSE DECORATED W/ SUNFLOWER & BUTTERFLY, FROM COUNTRY FLOWERS, KAREN & NATHAN HULLIBERGER, HARRISON MI
RUSTIC WHITE SCRUB FINISHED 46" TALL 2 STORY BIRD HOUSE FROM BOB & TANGI FISH
PROCESSED BEEF & PORK
FULLY PROCESSED ¼ OF BEEF READY FOR YOUR FREEZER; FROM MCCONNELL FREEZER PAC IN ROSEBUSH. CALL (989) 386-3329 TO SCHEDULE PICKUP OR WE CAN DELIVER TO YOU!
*FULLY PROCESSED ½ OF A PIG FROM THAYER FREEZER BEEF, CONTACT LISA OR TERRY THAYER (989) 429-7659
POWER & HAND TOOLS
NEW HONDA 3000 IS INVERTER GENERATOR
NEW IN BOX HITACHI MODEL EC2510E 5.5HP 8 GALLON GAS POWERED WHEEL BARROW PORTABLE AIR COMPRESSOR
*NEW HONDA EU2000I INVERTER GENERATOR
N.I.B BADLAND 12,000LB 12 VOLT OFFROAD WINCH
N.I.B DEWALT M-DWE43066N 5" 13 AMP 2.3HP HAND GRINDER
*NEW HONDA 3" WT30X TRASH PUMP W/ SUCTION & DISCHARGE HOSE
*(2) NEW GRADE 70 3/8"X20' D.O.T CHAINS W/ NEW 3/8" BREAK OVER BINDERS
* NEW ENDURA 1 ¼" X 100' BRAIDED ROPE W/ LOOP ENDS ON SPOOL
*NEW IN BOX DEWALT 5" 20 VOLT MAX LITHIUM ION CORDLESS GRINDER
*NEW GRIZZLY 2500 PSI 2"X8" STROKE HYDRAULIC CYLINDER
K-TOOL INTERNATIONAL ¾" DRIVE 20PC. 6PT. SOCKET SET UP TO 2" COMES W/ HARD CARRY CASE, CLARE, ROSEBUSH & MT. PLEASANT AUTOMOTIVE
CRESCENT PROFESSIONAL TOOL SET, ¼"- 3/8"-1/2" DRIVE SAE & METRIC, LIFETIME GUARANTEE, CLARE, ROSEBUSH & MT. PLEASANT AUTOMOTIVE
N.I.B GEARWRENCH 6PC. MINI SCREDRIVER SET FROM CALLIE & JT ARCHBOLD
N.I.B SUNEX SX2PK 2 PACK DIE GRINDER SET FROM CALLIE & JT ARCHBOLD
WASH KIT TO CLEAN UP YOUR ACT: 2 QTS. ARMOR ALL WASH & WAX, WASH SPONGE, 3PK MICROFIBRE CLOTHS W/ POLY WASH BUCKET, CLARE AUTO ZONE
N.I.B DURALAST 48PC. ½" DRIVE MECHANICS TOOL SET, 12PT S.A.E & METRIC SOCKETS GUARANTEED FOR LIFE, CLARE AUTO ZONE
N.I.B MILWAUKEE M18 FUEL COMBO KIT TO INCLUDE: ½" DRIVE HIGH TORQUE IMPACT WRENCH W/FRICTION KIT, M18 2 SPEED GREASE GUN, 1-CP2.0 BATTERY, 1-XC5.0 BATTERY, M18 & M12 CHARGING STATION & CONTRACTOR CARRY BAG FROM HUMPHREY BROS. CONCRETE & MASONRY, KEVIN & BRAD HUMPHREY
GIFT CERTIFICATES & SERVICES
*2 CERTIFICATES FOR SEPTIC TANK PUMPINGS FROM CLARE COUNTY SEPTIC SERVICE, CONTACT GERALDINE OR TROY ARTS TO SCHEDULE APPOINTMENT.
(2) FULL FURNACE CHECKUPS FROM ACCU HEATING & COOLING WITHIN 20 MILE RADIUS OF CLARE-VALUE $85 EA
N.I.B PENTAIR 75 GALLON PER DAY UNDERSINK REVERSE OSMOSIS WATER UNIT FROM FANCON WATER CONDITIONING & ROSEBUSH HARDWARE
$50 GIFT CERTIFICATE FROM BRENDAS HAIR STUDIO IN CLARE MI FOR ANY SERVICES OR PRODUCTS THAT THEY PROVIDE.
CLEAN INSIDE & OUT OF VEHICLE CERTIFICATE FROM BENCHLEY BROS. VEHICLE DEALERSHIP IN CLARE MI
(6) $15 GIFT CERTIFICATES FROM THE FAMOUS DOHERTY HOTEL IN DOWNTOWN CLARE MI
COMPLETE AUTO DETAILING, CERTIFICATE FROM AUTO SOLUTIONS/ JOE ROBINSON, FARWELL MI
(2) GIFT CERTIFICATES FOR OIL CHANGE & LUBE FROM AUTO SOLUTIONS/ JOE ROBINSON, FARWELL MI
ALL MENS MARY KAY PRODUCT BASKET, CONTAINING 1 MEN'S HIGH INTENSITY COLOGNE/ 2 MEN'S MINT BLISS/ 1 MEN'S DAILY FACIAL WASH/ 1 MEN'S SHAVE FOAM/ 1 MEN'S COOLING AFTERSHAVE/ 1 MEN'S ADVANCED FACIAL HYDRATION/ 1 MEN'S ADVANCED EYECREAM FROM CLAUDIA NEWMAN, MARY KAY DIRECTOR
ALL LADIES MARY KAY PRODUCT GIFT BASKET, CONTAINING 1 MIRACLE SET 3D/ 1 SKINVIGORATE CLEANING BRUSH/ 1 MAKEUP BRUSH COLLECTION/ 1 PERFUME/ 1 PEDICURE SET/ 1 CLEAR PROOF/ 1 BODY WASH/ 1 BODY SCRUB/ 1 BODY LOTION, 1 ROLLUP BAG/ 1 LASH CURLER/ 1 NAIL SET FROM CLAUDIA NEWMAN, MARY KAY DIRECTOR
(2) GIFT CERTIFICATES FOR 10LB OF HAY & GRASS FED ONLY GROUND BISON BURGER, 1LB. PACKAGES READY TO PICKUP AT POHL BISON BED & BREAKFAST, JIM & KRISTA POHL, ROSEBUSH MI
HYDRAFACIAL BASKET W/ CERTIFICATE: FOR 1 FACIAL & EMINANCE ORGANIC SKINCARE PRODUCTS, FROM ATHENA SALON W/ MELANIE ARMOUR- MIDLAND MI
10 YARD WASTE CONTAINER: WITHIN CLARE & ISABELLA COUNTY INCLUDES DROP OFF & PICKUP FROM AMERICAN WASTE COMPANY, CONTACT RICK FANCON TO SCHEDULE @ (989) 240-0142
CERTIFICATE FROM RIVERWALK RESORT & SPA IN GLADWIN MI: FOR 1 OVERNIGHT STAY SUNDAY THRU THURSDAY FOR 4 GUESTS WITH DBL. QUEEN HOTEL ROOM, EXPIRES APRIL 30TH 2019
FARM TOOLS
*NEW SET OF 48" UNIVERSAL QUICK ATTACH PALLET FORKS FROM MCCONNELL FARM SUPPLY
*5' 3PT DOUBLE DISC
NEW B&W 10,000LB. TOW & STOW ADJUSTABLE RECEIVER HITCH W/ 2" & 2 5/16" BALL, MADE IN THE USA, BLACKBURN RV & TRAILER SALES FARWELL MI
CUSTOM ROPE, DIVISION OF WILLIAMS MFG. INC. 30FT. T0337.5 (37,500LB) FOR ¾ & 1 TON TRUCKS, SMALL TRACTORS FROM TILMANN HARDWARE INC. BEAL CITY MI
NEW CASE OF PAINTERS TAPE: (24) ROLLS OF BLUE PROFESSIONAL GRADE PAINTERS TAPE, 1.40X60 YD. ROLLS, MADE IN THE USA, INTERSTATE BRAND CO.
NEW PELLET STOVE
NEW MONTAGE MODEL 32FS ELITE SERIES FREESTANDING PELLET STOVE W/ MONTAGE 32FS ARCH/TRIM KITLP TANKS
HP REFURBISHED 500 GALLON LP GAS TANK W/ FREE DELIVERY, SETUP & 1 TIME SPECIAL LP PRICE FILL (25 MILES OF CLARE) ON THIS TANK IF PURCHASED BY A NEW CUSTOMER. COMES W/ NEW OWNERSHIP DOCUMENTATION(ON LOCATION AT AUCTION)
*REFURBISHED 330 GALLON LP TANK FROM FISCHER LP GAS IN WELLSTON MI, COMES W/ NEW OWNERSHIP DOCUMENTATION(WILL BE ON LOCATION AT AUCTION)
.
VISIT SYKORA AUCTION SERVICE WEBSITE OFTEN FOR UPDATED ITEMS & PHOTOS
HARLEY IS A YOUNG 17 YEAR OLD LADY WHO IS A SENIOR AT FARWELL HIGH SCHOOL; SHE HAS ALWAYS BEEN AN ACTIVE MEMBER OF HER SCHOOL AND COMMUNITY. HARLEY IS ALSO A MEMBER OF THE NATIONAL HONOR SOCIETY AND HAS PLAYED MANY SPORTS WITH HER CLASSMATES, HER PASSION IS SOFTBALL. HARLEY HAS BEEN DIAGNOSED WITH A RARE FORM OF LYMPHOMA CANCER IN JUNE OF 2018. THERE HAVE BEEN SO MANY PEOPLE IN THE COMMUNITY WHO HAVE ALREADY GIVEN SUPPORT AND CONTINUE TO DO SO. WE ASK THAT YOU COME JOIN US FOR THIS GREAT EVENT TO HELP WITH THAT CONTINUED SUPPORT AND A CHANCE TO PURCHASE SOME AWESOME ITEMS AT AUCTION.
DONATIONS MAY BE SENT TO ANY ISABELLA BANK IN CARE OF HARLEY J. CRAWFORD MEDICAL ACCOUNT, THANK YOU FOR YOUR SUPPORT!
FOR MORE INFORMATION OR TO MAKE A DONATION CALL JOHN MCCONNELL (989) 429-0444, OR
NATHAN ROGERS @ (989) 339-6045