From the dotted line to the bottom line, making the auction payoff for you.
Sign up now for email updates on upcoming auctions.
Sykora Auction Service, Inc
ABOUT OUR FULL SERVICE COMPANY
Sykora Auction Service,Inc. was founded in 1948 by Hall of Fame Auctioneer/Legend, James J. Sykora now deceased. Jim's dedication to the auction profession earned his place in the Michigan State Auctioneer Association's 2001 Hall of Fame. The company lives on in his honor. Our auction service was established in order to provide the highest quality auctions to the public. Scott J. Sykora, president and owner of Sykora Auction Service, Inc. has over 40+ years of auction experience on the local and regional levels. As a dedicated professional auctioneer, his ultimate goal is to satisfy you, the seller, using a process which maximizes value from both the seller's and buyer's perspectives. Our staff has over 100 years of combined experience in the auction industry.
Testimonials
What People Say About Us
Great and honest family to work with. Scott will definitely work hard to get the most out of your hard earned property at his auctions.
Tom Dewey
Very honest and hard working family that has helped so many families in the community.
Libby Agle
The "go to" answer if I were to refer a friend, whether you're selling or buying
John Quinnan
Professional and experienced with a huge buyer base.
Char Smock
YEARS OF COMBINED EXPERIENCE
GROSS SALES IN THE MILLION'S EACH YEAR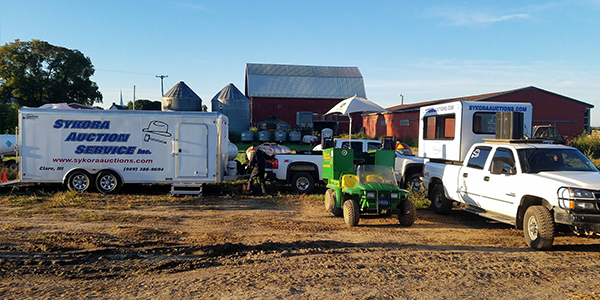 Our Introduction
Highest Quality Public Auctions
From the dotted line to the bottom line, making the auction payoff for you – that's what Sykora Auction Service, Inc. is all about. Built on the rock of absolute customer satisfaction.